Canopies For Schools
Everything you need to know about choosing the perfect canopy for your school
Increasing student numbers along with cutbacks to school budgets have put pressure on schools to continue to improve provision for pupils and extend spaces but at lower costs. Many schools have turned to outdoor canopy structures to create extra covered space required for a wide variety of uses, from all-weather learning to outdoor dining and storage spaces.
If the idea of a canopy or shelter for your school brings images of flimsy, inflexible excuses for buildings that you can only use on a warm summer's day, you may be surprised to see the wide range of types available today and the way these are being used by many schools.
The purchase of a canopy may be a significant investment for your school, so it is crucial to get it right. It is important to consider all options available to choose the right one for you. Our guide is here to help you with this process.
There are many factors that should be taken into account when contemplating the installation of a canopy to ensure you get what you really need and a quality structure at the right price.
This page is designed to help with: –
Ideas on applications
Types of canopy
Construction materials
Roof design options
Choosing a supplier
The process of arranging a canopy

What Are School Canopies?
School canopies are freestanding or 'lean-to' sheltered structures that you can add to your school or school grounds. They are usually made with a steel, aluminium or timber frame with polycarbonate or fabric roofing. Canopies can provide all-year-round shelter from the elements in several applications.
Canopies for schools can extend the size of a classroom or dining room for much less money than a building extension.
Some of the types of school shelters you might consider are:
Covered walkways
Outdoor classrooms
Sports canopies
Shade Sails
Entrance canopies
Playground shades
Cycle shelters
Covered areas for multiple uses
Dining area shelters
Buggy stores
School canopies are also sometimes called school shelters, school playground canopies, school entrance canopies, school canopy shelters, outdoor canopy for school, covered areas for schools, wooden canopies for schools, outdoor classroom canopies, free-standing school canopies, sports pitch canopies and sports canopies.

Why Should Your School Consider Installing A Canopy?
School shelters are budget-friendly, space optimising solutions that maximise the way that you use the space in your school and protect your students and staff from the elements. They also promote a healthy and vibrant learning environment, regardless of the weather. Their design makes each school canopy bespoke.
Ofsted state that children of primary school age should be able to undertake outside activities. With the ability to have sides added Installing a canopy can ensure that you can meet this requirement all year round whilst enhancing the learning experience.
At senior schools canopies are widely used to extend dining provision, create social areas and covered walkways. 
You can also install heating, power, and lighting within the structure, with many establishments viewing the use of canopies as an extension to their inside space
You might consider school canopies as a solution if you have any of the concerns below – most leading suppliers have case studies for all these situations:
How to expand space in a school.
Ways to provide efficient shelter for your playground.
Creating versatile spaces for multiple uses in school.
Improving the overall aesthetics of your school.
Covered areas for storage.
Encouraging school sports in all weathers.
Ways to enhance the learning space.
Health and safety for children in schools.
All-seasons weatherproof shelter in schools.
Improving student and staff comfort when queuing or walking between buildings.
Managing high-traffic areas in schools.

What Are The Applications Of School Canopies?
Whatever type of school you have (primary school or secondary school) there's a way to improve it. Not just in the way you utilise space but also in the way your school looks, how your students, staff and visitors experience the school and in the way you encourage and optimise learning.
School Canopies For Secondary Schools, Colleges and Universities
You may not need to supervise the safety of your senior students as carefully as you would need to for primary or junior students. Still, there are many ways to incorporate the ideal efficient shelter in your senior school; they can be an invaluable resource. You might consider a canopy for your senior school, college or university to:
Create sheltered break-out or recreation space.
Extend your dining facilities.
Encourage alfresco dining
Provide a bike store
Utilise unused outdoor areas
Cool the building in the summer
Create outdoor classrooms, locker rooms or meeting areas
Reduce congestion in common areas during break times
Direct visitors to your entrance.
Playground Canopies and Their Benefits
It's common to choose a playground canopy to provide shade for your students as they enjoy the fresh air – they are especially popular in a primary school. But you might also consider a covered playground to provide your students with the opportunity to break out and have fun outside even when it's raining.
Covered playgrounds are a great way to promote health and wellbeing and can prevent boredom or distraction later in the day.
Tip!
Playground shelters can also help you meet Ofsted's recommendations for children to be outside for a minimum of three hours per day.
School Entrance Canopies
Many schools choose entrance canopies to direct their visitors to the main entrance.
School entrance canopies reassure and provide comfort for visitors. They also protect visitors from the elements if they have to wait outside.
Depending on the options available from the supplier you choose, you should be able to enjoy a bespoke design for your entrance canopy – in your school colours, adding a professional aesthetic to your school.
School Walkway Canopies – How They Can Connect Your Campus
School walkways are a good option for schools that are part of a campus. They provide protection from the elements, and can keep your students focused on going where they should be going!
Walkway canopies for schools can redirect footfall around your building to utilise existing space for other purposes. Some walkway canopies can be wide enough to provide a covered play area too.
School Canopies for Primary Schools, Early Years and Nurseries
There is a multitude of uses for canopies within a school environment with some examples below:
Creating an outdoor learning environment
The great outdoors provides a fantastic learning opportunity while cultivating an environment that supports the positive physical and mental health of children.
Lesson plans could be designed around the outdoor space making the learning experience more constructive and fun. It can also provide a wider range of activities for students that they would not normally undertake in a traditional classroom environment such as paint and water activities.  
Creating a year-round area for exercise activities
With the installation of a canopy-based structure, the opportunity presents for the continuation of exercise-based lessons throughout the year whether for actual participation, a viewing area, a waiting area and even storage of sports equipment.
Constructing a year-round play area
Canopies can be used to cover existing or new outdoor play equipment protecting it from the weather making areas more usable throughout the year and extending the life of your equipment.
Building an outdoor seating and dining area
To support the promotion of the health benefits from spending time outside in the fresh air a canopy can allow for outdoor seating for socialisation between students, an eating area and even a study or area for revising.
Events
The canopy can be used to provide shelter from the rain or sun for your events such as sports days, fundraising events, seasonal events, school productions and prize-giving ceremonies.
Sheltered waiting areas
Areas where parents can wait to pick up their children, for children waiting for the school bus to turn up or even at the entrance of the school for students queuing up in the morning.
Sheltered walkways
If your school has multiple buildings you may want to create a covered area between these building to provide sheltered walkways for children moving between the buildings.
Storing Equipment
Canopies can provide a dry place to store equipment and furniture. They provide shelter from the rain and snow avoiding water damage to your items and give protection from UV rays, that can fade and discolour equipment. By using an enclosed canopy with a roller shutter, you can protect your equipment from possible theft and vandalism. This can save valuable time not having to bring all the equipment back in each evening.
To create an outdoor space for students with special educational needs
An outside area can also provide the opportunity for children with special educational needs to benefit physically, mentally, and emotionally. Canopies are often used in these setting to make extra space available to take individual pupils with specific challenges.  Canopies can provide a relaxed area with comfortable seating and even a sensory environment with different shapes and colours.

What Are School Canopies Made Of?
There are lots of different types, grades and finishes for each type of canopy, but essentially there are five primary materials that feature in canopies for schools:
Steel, aluminium, and wood for the structural support and fabric or polycarbonate for the roofing and side panels.
While some materials are better than others, they all have their pros and cons. For example, steel is heavier than aluminium but is much stronger.
You'll find the essentials of what you need to know for each material below:
Steel School Canopies: The Benefits
Steel is a common structural material because of its strength and durability, which makes it the normal option for a school canopy. Choose a steel frame, and it will repay your investment tenfold, especially if it features a high-quality anti-corrosion coating.
How To Prevent Corrosion On A Steel Canopy
While canopy manufacturers all provide some type of finish to their canopies (often powder coating), it's what happens to the steel before this stage that really matters.
Hot-dip galvanising is the traditional and best coating available but many companies are moving to other methods. These cheaper alternatives have names like zinc-rich primer (amongst others). This means the product gets two coats of paint.
Hot-dipped galvanising is the process of coating steel by immersing the metal in a bath of molten zinc, at very high temperatures. It's an extreme process – for a reason! The coating that forms during this process gives the steel the most corrosion protection.
The next step is to apply the topcoat. It should be a polyester powder coating, sometimes known as 'powder coating' or 'PPC'. The powder material is applied and the whole steel part is put into commercial over, where, at melting point it flows over the steel to fully coat it. It then cures to form a smooth, firm, and durable finish.
The video below shows this process.
Hot Dip Galvanising To Prevent Corrosion From Wear & Tear
When shopping for canopies, you must consider the wear and tear that daily life will bring. You should also consider small-scale vandalism. It's unfortunate, but an unseen scratch through paintwork to bare metal is the beginning of rust inset.
The good news is galvanising prevents this issue, even if the paint is scratched the steel is still protected.
Why Aluminium Canopies Are a Lightweight and Cost-Effective Alternative
Coated aluminium is an increasingly popular choice for many products. It's cheap, lightweight, doesn't corrode and often looks good. That's why coated aluminium features in canopy construction for gutters, flashings, and trims. Some suppliers are selling whole canopy structures out of aluminium in a range of qualities. Designs include lightweight carport styles and sleek looking structures imported from other countries.
An aluminium canopy is likely to be modular and therefore available in set sizes and colours and with standard generic structural calculations rather than carried out specifically for your location, wind speed, typical snow loads etc. Aluminium canopies can work for straightforward structures, just make your choice carefully.
This is an aluminium structure that has failed under a snow load.

The leading school canopy companies will be able to offer both but probably have a recommendation once they have discussed your needs. If in doubt you can ask your chosen supplier for estimates on both and ask for the pros and cons to be listed.
Wooden Canopies
Timber canopies can be a solution if you're looking for a natural aesthetic. They are a popular and unique feature in forest schools and for playground shelters. The best timber canopy suppliers will only deal with sustainable timber and will help you accomplish a bespoke design of the right type of canopy for your needs.
Many forest school canopies are unique in design, and leading suppliers will be more than willing to accommodate your ideas. They also often have the option to include bright coloured polycarbonate or fabric roofs, a wonderfully unique feature that even enhances a basic design.
You can choose from a variety of wood such as softwood, hardwood, and Glu-laminated Wood which vary in terms of quality, appearance, endurance, and longevity.
One important aspect to consider is that in an environment with children you should choose a smooth finish as it will be safer for children whilst being more aesthetically pleasing.
Softwood
Typically, a cheaper option but with less durability, softwood is derived from trees that grow quickly such as pine and cedar trees. Regular maintenance is key to increasing its longevity. This option should be considered where you are looking for a cost-effective solution within a short timescale.
Hardwood
Hardwood originates from trees such as oak and maple with a slower growth rate. They are superior to softwood in terms of durability and as such better for outdoor use. Hardwood does not require as much maintenance as softwood but is more expensive.
Glu-laminated Timber
Derived from either softwood or hardwood, this option is treated which increases its lifespan and durability. Free from splinters, it can be uniquely shaped creating an impressive design feature. It can be manufactured from different wood and is environmentally safe, cost-effective, lightweight, and impressively durable.
There are two practical downsides of timber canopy construction: ongoing maintenance and fire.
Maintenance – Timber canopies will come with kind of coating or treatment, but you should check how long with will last, it is likely that some ongoing maintenance to prevent the wood rotting may be required.
Fire – Some insurance companies may not cover you for a timber canopy adjacent to your building due to the fire risk. A quick search online will bring up instances of timber canopies being burnt down.
Below are just a few examples.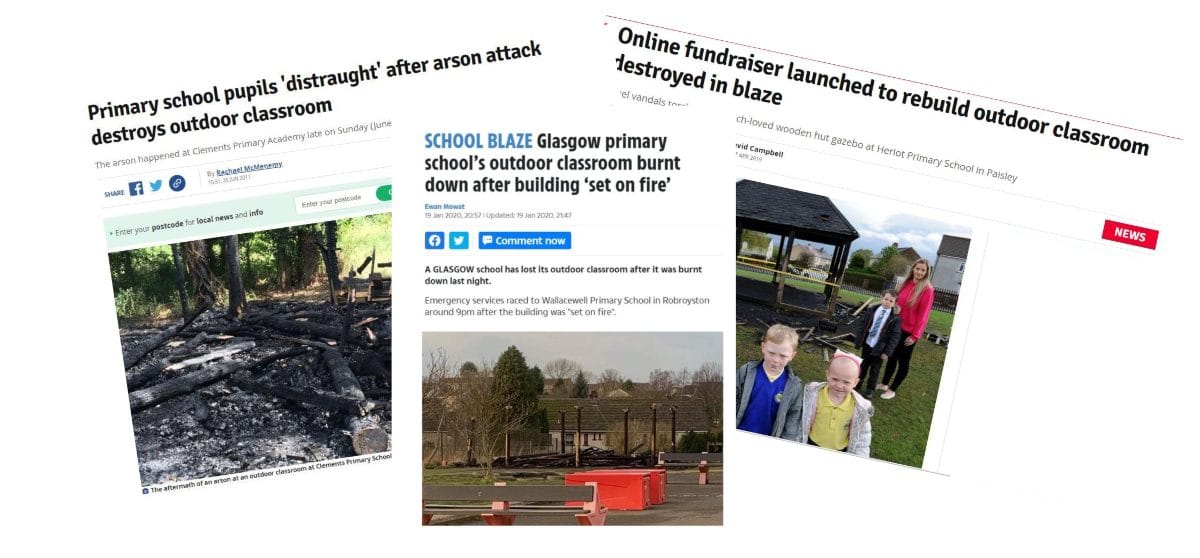 What Are Polycarbonate Canopies and Why Are They So Popular?
The traditional roofing materials for canopies is polycarbonate in either a solid or multi-wall construction. There are far too many variants to cover here, but these pointers may help you in understanding the main options.
Solid Polycarbonate and Multiwall Polycarbonate
Solid polycarbonate looks like glass, but it's much stronger, which is why it's common in school shelters. You'll often find polycarbonate in a roof or side panels.
You may know multiwall polycarbonate from your conservatory roof – it's the same material. Though multi-wall polycarbonate is also known as 'twin wall' or 'triple wall'. It's available in various types and thicknesses and is a roofing material only – it's not suitable for the sides of structures. A solid sheet construction is the 'go-to for side panels'.
Solid polycarbonate is commonly available in clear, or opal and multi-wall polycarbonate is available in clear, opal, or a range of bright colours. There are plenty of options to suit your style.
Tip!
On outdoor structures like school shelters, manufacturers will need to apply high UV protection to both sides of the material to create the ideal shelter for outdoors.
The biggest point to consider for school canopies is that these solid sheet and multi-wall products should always feature genuine Polycarbonate – for safety purposes.
Solid Polycarbonate Versus Polyethylene Terephthalate Glycol (PETG – PET-G)
Your school canopy needs to feature the right materials for the job, your ideal shelter needs to be safe and risk-free. That's why having the right specification polycarbonate canopy roofs and glazing in your side panels is critical.
Some manufacturers use a product called 'Polyethylene Terephthalate Glycol', commonly known as 'PETG' or 'PET-G'. It's much stronger than plain glass and cheaper than polycarbonate which is why it's popular. But many schools are proving this still is not strong enough.
PETG or PET-G is likely to be the same material you have seen on broken cycle stores. It's not a good look, and it's not safe, especially for primary school children!
Broken 'PET-G' (Polyethylene Terephthalate Glycol) and the strips used to clamp it.

On the other hand, polycarbonate is the same material that features in police shields – because its unbreakable.
This video shows someone trying to break a piece of polycarbonate.
How the roofing is fixed to your canopy may seem like something you should leave to the experts, but it's an important detail. Understanding what you need to consider allows you to determine the integrity of the supplier. You should expect the supplier to take the time to discuss this with you.
School Fabric Canopies Options
Fabric canopies on schools fall into two types: shade sails and tensile membrane structures.
Described simply, a Shade Sail is a piece of fabric suspended between 'uprights'. Uprights (similar to poles) are normally steel, and the fabric can be shade cloth or waterproof.
These are inexpensive structures, with lower lead times that many schools use in their playgrounds.
Shade Sails
Shade sail fabric does vary in quality; the main factor to look at is the weight. Fabrics above 320gsm are essential, and the high-quality fabrics are above 350 gsm.
The length of the guarantee that comes with the fabric is also a good quality factor.
If you find yourself in any doubt, just ask the suppliers to send samples of the canopy material for you to compare. It's common practice for leading suppliers to send these samples out to you.
This shows different weights of shade cloth fabric.

Tensile Membrane Structures
Tensile membrane structures take the form of umbrellas and tepee style structures. They can also be steel-framed canopies with a stretched fabric roof.
The type of fabric in these structures will range from heavy-duty PVC to lightweight short lifespan fabrics like those used on polytunnels. Fabrics will always be harder to maintain than polycarbonate and some can become ingrained with dirt.
For this canopy owner it was left too late to clean and all the fabric had to be replaced.

Some companies may give you the option of a polycarbonate or fabric roof to save money. This is typical on 'barrel vault' type structures like the ones you may see at the garden centre. You need to consider the downsides carefully before proceeding.
Typical downsides will include condensation, a shorter lifespan, more specialist maintenance (you may even be tied to the supplier for maintenance/replacement) and a whole replacement if any part is damaged.
This was the unwelcome sight for one site manager as he arrived to open up!

Many fabrics have trade names, so it is not always easy to determine what type of fabric the supplier is offering you. Don't be afraid to ask for more details or samples.
Guttering and downpipes for school canopies
Guttering and downpipes for your outdoor canopy should be aluminium and preferably offered in a powder-coated finish to match your structure.
Plastic guttering (PVC) and downpipes will degrade faster than your canopy and will eventually go brittle and crack. They are also prone to breaking if anything runs into them, or anyone tries to lift themselves up on them.
Post Pads for School Canopies
If you are looking for a school canopy for a nursery, primary school or early years area, you may want to consider post pads. These are relatively inexpensive, made from foam and PVC and will protect young children from running into a hard steel frame.
Checklist For Selecting A High-Quality School Canopy Construction
Choose a steel frame where possible.

Make sure it carries a CE Mark (this is the law)

Look for hot dip galvanised steel.

Don't cut corners on polycarbonate specifications.

Avoid fabric on structures that could have Polycarbonate.

Check the quality of the fabric.

Insist on aluminium gutters and downpipes.

Look at guarantees and ask for samples.
Fit for Purpose
One thing that you can check is that the canopy you are looking at was designed for schools, structures that were designed for garden centres, carports or car washes may not be up to the job.
The below canopies are designed for car wash bays. They looked good until the wind got up.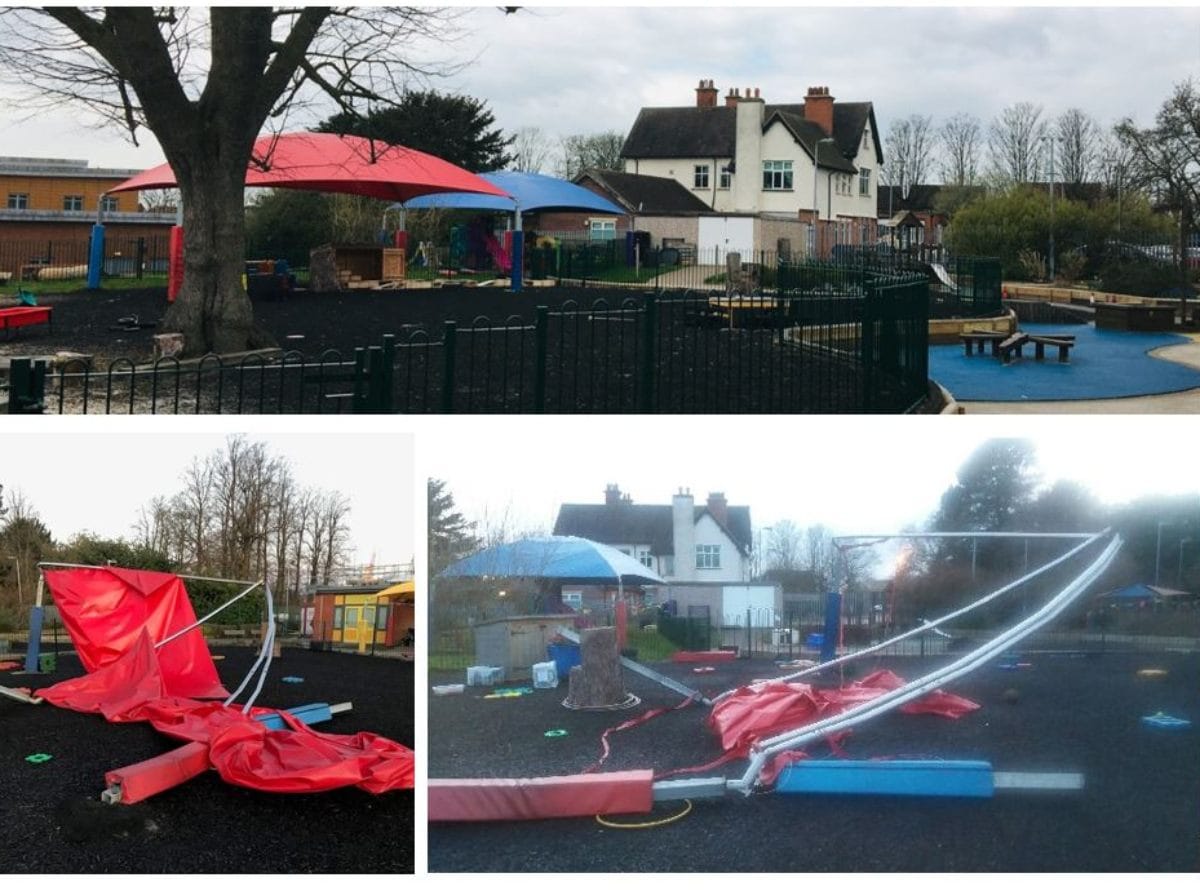 Types of School Canopy Structures
The applications for canopies may be diverse, but the basic design options for school shelters are relatively simple. Here are some of the primary outdoor canopy structures you'll probably consider when selecting a school shelter.
Understanding these will help you find the right canopy with the highest standards for your school and will help you avoid overwhelm when you encounter some supplier's websites.
It's much easier to learn the basics and then physically speak to a supplier for more information than trying to make a decision using a supplier's website and literature.
Freestanding Canopies
Think of a freestanding canopy as an independent canopy, one that supports itself and does not connect with your existing buildings.
They can be open at the sides or include side panels, doors, heat and light to become a fully functional extra room for your school. There are even options to add shutters so you can open up your shelter on a warm day and 'batten down the hatches' on a colder day.
The basic functionalities for free standing canopies are to create extra space like additional dining or break out spaces in underutilised space in your school grounds. If you have a corner or rarely used spot tucked away somewhere in your school grounds, that could be the perfect place to install a canopy and encourage your students to take their breaks outside while still undercover.
This canopy type can also serve as an extra classroom or an expanded teaching area. We've found freestanding canopies in schools that cover whole playgrounds, or sports pitches – perfect for sports day. In other situations, you'll find that many bike stores or storage canopies are free standing too.
Often a freestanding outdoor canopy may appear to be connected to a building, but it's not – it's just positioned immediately adjacent to an existing building but is an independent structure.
This is a freestanding canopy on the left and a 'lean-to' canopy on the right.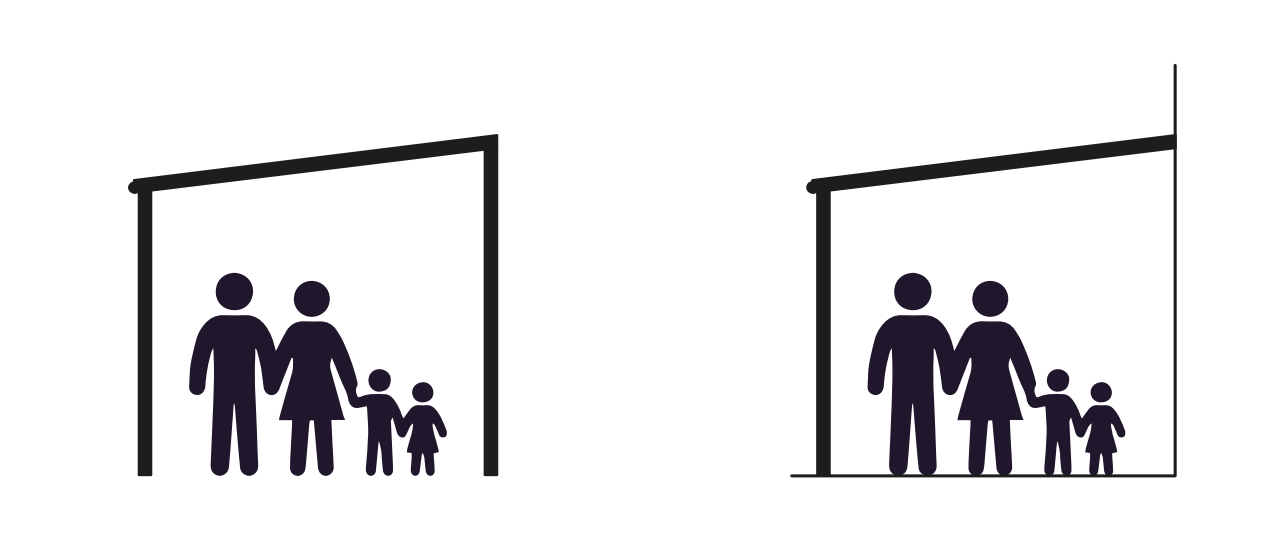 Lean-to School Canopies
If your canopy is to go against your existing buildings, you may have the option of affixing to the building, often called the 'lean-to' option. A lean to canopy attaches to the existing building using the building for support on one side or more. Then the steel, timber or aluminium posts support on the outside edge or wherever necessary.
Lean-to canopies are typical as play area canopies, covered walkways (around a building), or to provide a sheltered extension from the building. This type of shelter can also offer additional storage, classroom, teaching area or play space and can extend a dining room for alfresco dining. You can also find wooden lean to canopy designs which use a timber frame.
As with freestanding canopies, you can add side panels, shutters, light and heat for use in the colder months depending on the design you choose.
The most critical issues to consider are:
Gaining permission to install
Because you're bolting into the building, you are more likely to need to obtain permission from the building owner (local authority or dioceses etc?) to bolt a lean-to canopy to the building.
Structural calculations
Proper structural calculations are vital. Your canopy supplier can usually arrange these, but they may need to know necessary information on your building construction to organise this.
The strength of the building wall.
The building wall may not be strong enough to take the extra weight. You need to take proper advice on this. A canopy should never rely on a wall alone for support.
If in doubt, a freestanding structure is often the most straightforward option.
This canopy was only bolted to the wall with no posts of its own at all.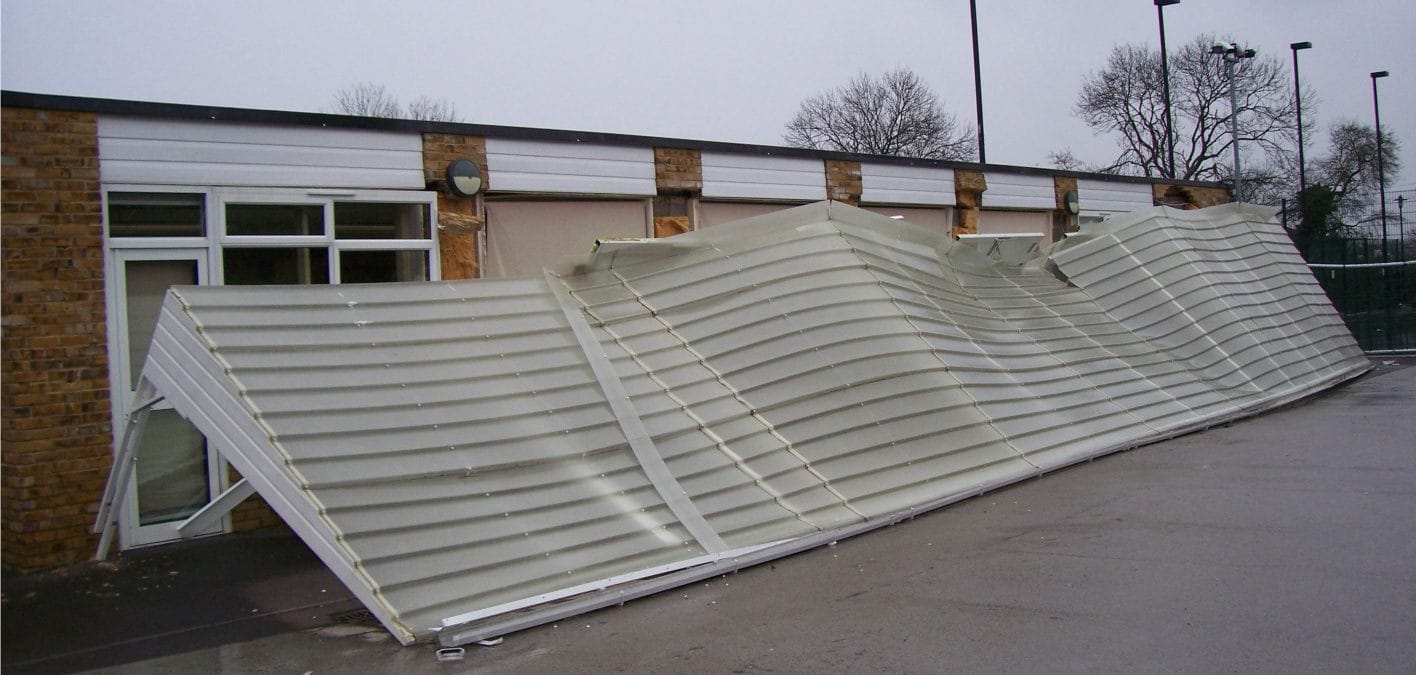 Playground Shade Sails
Shade sails do precisely as the name suggests – they provide shade and look like a sail. Shade sails are striking to look at, you'll often find them over seating or dining areas in schools.
They are also a common and unique feature over parts of a playground.
Three to four steel posts support a fabric sail. They are often easier to fit than other canopy types and can vary in size. You might choose several smaller sails or one large sail to cover a larger area depending on the look you're going for.
Aside from the practical element that shade sails bring to your education sector facility, they also look vibrant, inviting and innovative. They set the tone for the ambience most schools would like to create and suit a range of uses, whether that's to cover a small animal farm or an outdoor classroom.
Covered Walkways
An increasingly popular feature in many education sector facilities is covered walkways. Covered walkways provide comfort, protection from the weather and direct footfall purposefully around your school building.
They're also great for linking up buildings across campus and creating a clean, calm, well utilised and quiet environment where you need it.
You have a few options when it comes to covered walkways. You can choose a simple covered walkway, partially enclosed walkways and fully enclosed walkways (or a combination of all three).
They can be freestanding, or lean-to and when positioned close to the outside of your school can serve as extra space for other purposes too.
Covered Walkways With Open Sides
If you're just looking to protect your students from light rain and steer them along designated pathways and away from the grass or other locations in the day school, college or university, you might consider a covered walkway.
When they stand alone, away from the school building, they're the ideal shelter providing: shelter, looking good and visually guiding students, staff and visitors along your intended walkways.
There may also be options to add outdoor lighting to your walkway to guide students in the dark – to create the ideal shelter.
A walkway adjacent to a building will have the benefit of having one enclosed side.
Partially Enclosed Walkways
If you position your walkway along the side of the building, you automatically increase the level of shelter you can achieve from the wind, rain, and sun. There are also options to add side panels to walkways where they don't stand close to your buildings.
Adding panels to one side of the walkway will increase protection from the elements and can be a budget-friendly way to enhance the comfort of your students as they walk between buildings.
Fully Enclosed Walkways
Finally, you might choose to add side panels to both sides of your walkway, making it fully enclosed to adequately protect your staff and students from the elements.
There are a variety of options for side panels that you can incorporate into your bespoke design. You can add lighting and heating to an enclosed walkway too.
School Canopies For All Weathers
One of the things that make day school canopies a fantastic option is their flexibility. They can cover (pun intended) an array of problems and have multiple applications. However, one of the main concerns most people have when it comes to school canopies is if you can use them in all weathers and seasons.
The answer is yes, and the reason why is because you can add any combination of side panels or shutters to your canopy and you can also install light and heating.
There are multiple options when it comes to side panels which include:
Fixed panels – these have options to be solid, glazed or some form of fencing. Glazed panels can incorporate traditional glass, clear polycarbonate, opal polycarbonate or even printed polycarbonate.
Fence options can range from high-security mesh to low plastic paling fencing.
Shutters – offer you enhanced flexibility. On fair weather days, you can pull them up and enjoy the open air, and on cold or rainy days you can keep them closed.
Fabric sides – are available from some canopy manufacturers but sometimes prove to be an unreliable solution relying on weighted bases or zips or velcro-like fasters and often blowing and tearing in the wind.
They also usually require too much effort to open and close for them to be convenient.

How Do School Canopies Improve A School's Aesthetic?
Many schools feature flat-roofed, bland and uninviting looking basic designs that were popular many decades ago. They often don't look inspiring. Many types of canopy will improve the look of the school, drawing the eye to a bold, colourful shaped structure rather than the drab brick exterior.
But there's more; when we look at a school from the outside, whether because we're walking by, collecting children or attending the establishment, open-air classrooms or teaching areas, shelters and walkways is an obvious demonstration of the care and attention you pay to the wellbeing of everybody in school.
Subliminally, it shows that your school takes pride in creating the ultimate space for learning.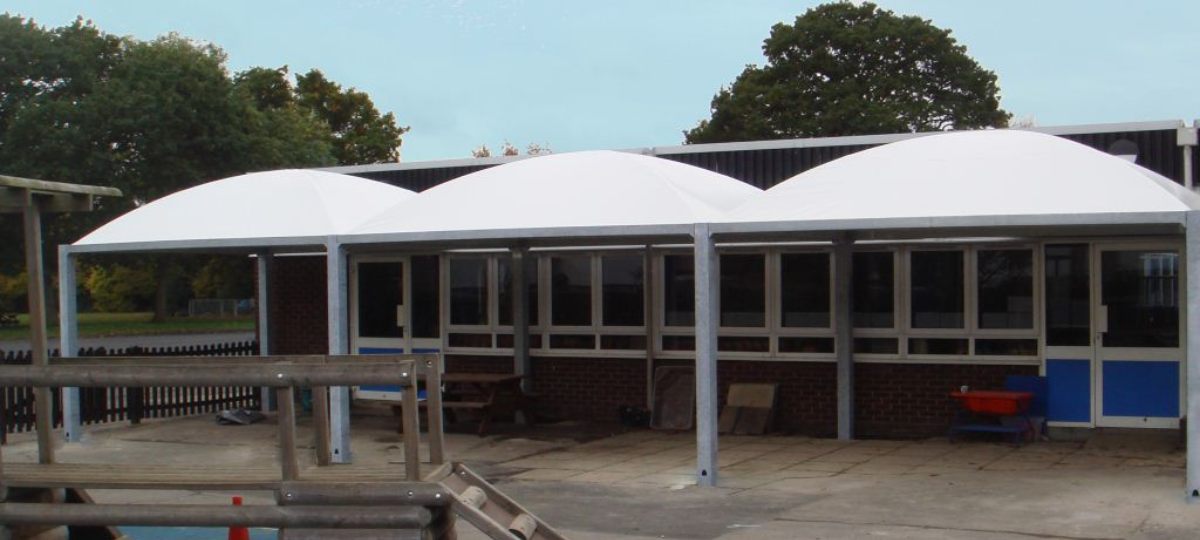 How to Decide on a School Canopy Supplier
To find a supplier, you can simply Google 'school canopies'. Many companies have a friendly team of experts who can help answer the most complicated questions. Browsing the supplier's websites and asking for literature will help you learn more about the supplier – but speaking with their staff will get you the best ideas and help you narrow down which supplier you should approach for pricing.
Once you have a clear understanding of the purpose and where you wish to locate the canopy, you should speak to your supplier. You should inform your supplier of your ideas and they will be able to guide you and give you some idea of what has worked for other schools. You should ask your supplier how the area to be covered can be maximised in the design process.
Suppliers will explain what options you have, what the lead times are and help you decide on a canopy with the right and highest standards for your location. You will also find out more about their products and discover the factors you need to consider moving forward.
A good supplier will talk about pricing over the phone to ensure what you want, and need is within your budget.
It is always a challenging process making sure you have the right supplier that will guide through the process from initial scoping to installation. Not only will having the right supplier affect the final product but also your whole experience during the process. It is recommended that you approach a few suppliers and check the following before making your final decision.
Checklist For Selecting A Good School Canopy Supplier
Does the supplier clearly have a lot of experience in working with schools?
Is the supplier manufacturing canopies to the requirements of EN 1090-1:2009 + A1 :2011? (this is commonly referred to as 'CE Marking' and is one of the quickest ways to tell if you are dealing with a professional company – don't be afraid to ask)
Does the supplier have samples of previous satisfied clients and some you can contact for their feedback?
Do the staff/contractors employed by the supplier have DBS certification?
Does the supplier have relevant industry and health and safety certifications?
Does the supplier have public and employers' liability insurance? You should request a copy of this for your records.

What Is The Entire Process Of Arranging A Canopy?
Here's a general guide for what the canopy ordering process looks like – though it's subject to change depending on the supplier you choose.
Step 1: Discuss your ideas with a canopy supplier
Before this conversation, you should list all of your questions, ideas and concerns and discuss them with the supplier during the call. The supplier's design team will help you figure out your options and guide you on the next steps.
An open conversation with the supplier about budgets will ensure you are on the right track and save any disappointment later. Make sure you ask the supplier to outline their entire process for you, so you know what to expect.
Step 2: Site survey
Depending on your conversation and the complexities of your site, the supplier may want to conduct a visit to measure up. They may want to look at the access to the area and talk about anything else that will influence the price.
This is the best way to get the most accurate quotes and lead times.
Step 3: Presentation of the ideas and costs
The supplier will show you their design ideas, products and final installation costs. You should factor in a contingency budget to cover any unforeseen issues that may crop up and ensure financial certainty.
Once you're ready to order, the next step will be the installation.
If you're happy with the ideas and prices, make sure that you see a detailed drawing from the design team. You can use this to show all of the stakeholders, it's an easy way to ensure that everyone in the school knows what to expect.
Tip!
It's worth noting that there are several funding options you can use if necessary. Ask your supplier if this is something you'd like to look into. Many leading suppliers often have a free school funding guide.
Step 4: Installation
Your supplier will give you details about how the installation process will work and answer any questions you may have about the installation process.